So often we talk with real estate agents who question the choice of inspectors or question the reasons for even having an inspection.
As the company that represents buyers in our area, I am not surprised. But sometimes I see an issue so obvious I think that anyone in the business should be able to identify it.
Here is one such photo: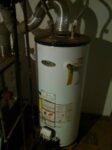 Unless you are in your first year in this business you should really see one obvious and one more subtle defect with this installation.
And, we rely on home inspectors to find and document these types of concerns and since both of them are safety related, they may be worth discussing with a home seller for a credit or repair by a licensed contractor.
If you are a buyer considering who to use as a buyer's agent or a designated buyer's agent, you may want to make sure those you are considering have enough knowledge of homes to discuss topics like this with you.
Jon Boyd Broker/Manager
The Home Buyer's Agent of Ann Arbor, Inc
1905 Pauline Blvd. Suite 1 
Ann Arbor, MI 48103
We serve the Ann Arbor – Brighton – Plymouth – Novi – Canton – Ypsilanti – Saline – Chelsea – Dexter – Novi – Northville areas in Southeastern Michigan.